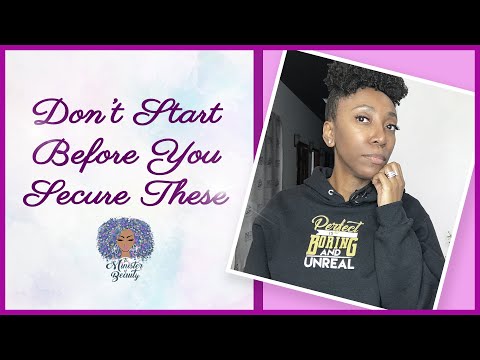 Many people talk about what you need to start a small business and a lot of it is fluffy stuff, but I wanted to talk about a few things that everyone that wants to truly start a small business should have without question. Thanks for joining me on The Minister Of Beauty channel!
Get your Byte Aligners For a Discount of $100 off and 75% off an impression kit! http://fbuy.me/v/ewill_1
Build your credit and earn reward points with your debit card! Check it out and you'll get 50,000 points ($50) if you sign up: https://extra.app/r/ELZABG2EGVJ
Get your free skincare ritual download/printable at For YouTube Your beautiful skin is waiting at www.inezelizabethbeauty.com and enter the code PERFECT10 for 10% off your first order! & YOU can join the Unfiltered Skin Club to get your products delivered to you every other month! Check it out at bit.ly/skinuclub
Get your Business, Inspiration & Beauty Tees! Check out the collection at bit.ly/mobeautytees Beauty
Check out my eyelash store at www.temptinglashes.com for premium quality mink and human hair eyelash strips and styles!
Professionals, get THE BEST INDIVIDUAL EYELASH EXTENSIONS ADHESIVE here! https://temptinglashes.com/product/in…
Please walk with me on my journey of sharing the BIBLE (BUSINESS INSPIRATION BEAUTY LIFE ENJOYMENT) on my other platforms!
WEBSITE:WWW.THEMINISTEROFBEAUTY.COM
INSTAGRAM: https://WWW.INSTAGRAM.COM/THEMINISTER…
FACEBOOK: The Minister of Beauty
PODCAST: bit.ly/cbspcast
BLOG: www.biblejourneyblog.com
#business #finances #theministerofbeauty